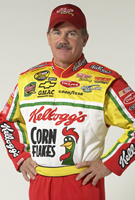 Doran Drivers: Terry Labonte
Born: Nov. 16, 1956 in Corpus Christi, Texas
Lives: Thomasville, N.C.
Family: Wife, Kim; Children, Justin (2/5/1981) and Kristy (6/8/1983)
Website: www.hendrickmotorsport.com .

Synopsis:
* Two-time NASCAR Winston Cup/NEXTEL Cup champion: 1996 and 1984.
* 22 career NASCAR Winston Cup victories.
* Won the 1980 Southern 500. Also won the Busch Clash in 1985 and The Winston in 1988 and 1999.
* Earned the International Race of Champions (IROC) title in 1989.
* Competed in the Rolex 24 every year from 1981 through 1987; won the GTO class in the 1984 Rolex 24, co-driving with Billy Hagan and Gene Felton in the Piedmont Airlines Camaro. The trio reached third overall with four hours remaining, but finished sixth overall after struggling with minor mechanical problems.
In addition to Labonte, three other NASCAR regulars competed that year:
Sterling Marlin, Joe Ruttman and Tim Richmond.
* Nickname is "The Ice Man."


Career Highlights:
2005: Doing selected Grand American races under the Doran Labonte Racing banner; finished ninth overall and in the DP class at the Rolex 24 at Daytona Feb. 5-6 with teammates Jan Magnussen, Bobby Labonte and Bryan Herta in the DORAN JE4 Pontiac No. 44. Qualified 11th for Paul Revere race at Daytona; finished 15th in DP and
overall with co-driver Bobby Labonte. Qualified 13th on Watkins Glen's short course in August; finished 14th with co-driver Bobby Labonte.
2004: Finished 26th in NASCAR NEXTEL Cup point standings, just two points behind his teammate, Brian Vickers, in 25th place.

2003: (The following material was prepared by Hendrick Motorsports prior to the 2004 season and is used with its permission.)

With nine top-10 finishes, a stirring victory in the Southern 500 at Darlington (S.C.) Raceway and the return of his trademark consistency, Terry Labonte ended the 2003 season back in NASCAR's top 10 for the first time since 1998. He had trailed Kurt Busch by 56 points for the final spot in the top 10 entering the last race of the year at Homestead, Fla. A 15th-place finish was enough to lift Labonte past the Roush Racing driver and give him a spot on the stage (tenth) during the year-end awards ceremony in New York City.

In 25 full seasons, Labonte has finished in the top five in the driver standings seven times and in the top 10 on 17 occasions, with an average points finish of ninth for his career.

Labonte entered the 2004 season fifth on the all-time list for career starts with 781; trailing only Richard Petty (1,177), Dave Marcis (882), Darrell Waltrip (809) and Ricky Rudd (803).

With a sixth-place finish Oct. 19, 2003 in the Subway 500 at Martinsville (Va.) Speedway, Labonte surpassed the $33 million mark in career winnings. He ranks eighth on NASCAR's all-time list with $34,064,558 (through 2003); behind Jeff Gordon, Dale Jarrett, Dale Earnhardt, Mark Martin, Rusty Wallace, Bill Elliott and Bobby Labonte.

Among active drivers, Terry Labonte is seventh in wins with 22; trailing only Gordon (64), Wallace (54), Elliott (44), Martin (33), Jarrett (31) and Rudd (23). He also is seventh in pole positions with 27; behind Elliott (55), Gordon (46), Martin (41), Geoffrey Bodine (37), Wallace (36) and Rudd (28).

He's won races at nine different active tracks as well as North Wilkesboro (N.C.) Speedway and Riverside (Calif.) Raceway, where NASCAR no longer competes. Labonte has won pole positions at 12 different active tracks along with North Wilkesboro, Riverside and the old Texas World Speedway.

Labonte's career percentages for top-five finishes (23 percent/181 times) and top-10 finishes (45 percent/353 times) in 781 starts are among the all-time best.

In Labonte's first NASCAR race, the 1978 Southern 500 at Darlington, he started 19th and finished fourth in the No. 92 Duck Industries Chevrolet for Hagan Racing. He earned his first victory in his 59th start, the Southern 500 at Darlington on Sept. 1, 1980, and his first pole position in 1981, taking the No. 1 starting spot for the spring race in Atlanta.

With his fourth-place finish in the 1982 Old Dominion 500 at Martinsville, Labonte became the youngest driver in motorsports history to win $1 million and the 12th NASCAR driver to reach that mark.

He is one of only eight drivers who qualified in excess of 210 mph in May 1987 at Talladega (Ala.) Superspeedway, prior to NASCAR's restrictor-plate era. Labonte's 13 qualifying laps at more than 200 mph place him behind only Cale Yarborough (15) and Elliott (14).

Labonte won the 1989 International Race of Champions (IROC) title, one of six IROC Series in which he has competed. That effort included a victory at Michigan International Speedway. Labonte also clinched the 1993 IROC title for the late Davey Allison through his substitute effort in the final event at Michigan in August of that year.

In 1996 Labonte claimed his second career Winston Cup title, edging teammate Gordon by a mere 37 points in one of the closest races in history. In 55 years of NASCAR Grand National Division and Winston Cup Series competition, Labonte is one of 13 drivers with multiple championships - a list that includes Earnhardt, Gordon, Waltrip, Yarborough, Buck Baker, Tim Flock, Ned Jarrett, David Pearson, Lee Petty, Richard Petty, Herb Thomas and Joe Weatherly.

The two-time champion broke Richard Petty's record of 513 straight starts in 1996 and continued his "Iron Man" streak until Aug. 5, 2000, when he missed the Brickyard 400 at Indianapolis while recovering from injuries suffered a month earlier at Daytona Beach, Fla. Labonte's mark of 655 consecutive starts was surpassed in 2002 when Rudd started his 656th straight race.

Labonte's 1999 victory in "The Winston" was the second triumph among his 18 starts in the annual winners-only all-star race and came exactly 11 years to the day since his first victory on May 22, 1988. In addition, Labonte has finished second once (1987) and third twice (1985, 1997). He has competed in 18 of the 19 races, missing only the 1991 event.

Terry and Bobby Labonte are the only brothers to win Winston Cup championships in NASCAR history. Terry won in 1984 and 1996, with Bobby winning in 2000. They were inducted into the Texas Sports Hall of Fame in February 2002.

Terry Labonte's first 22 NEXTEL Cup wins were distributed evenly among short tracks (Bristol, two; Richmond, three; North Wilkesboro, four); intermediates (Darlington, two; North Carolina Speedway, two; Phoenix, Texas and Concord, one each); superspeedways (Pocono, two and Talladega, two); and road courses (Riverside, two). Labonte also has finished in second place 42 times and in third place 37 times during his career, putting him among the top three in 13 percent of his starts.

Labonte has now competed for Hendrick Motorsports in 11 of his 27 seasons. He drove for Hagan Racing 12 years (1978-86 and 1991-93), leaving the Thomasville, N.C.-based team for four years to race for Junior Johnson & Associates (1987-89) and Precision Products Racing (1990).