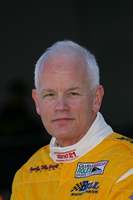 Doran Drivers: Forest Barber
Birthdate: 10/3/52
Birthplace: Fort Worth, Texas
Residence: Fort Worth, Texas
Sponsor website: www.feedstheneedracing.com

Fast Facts:
Winning car owner and co-driver at 2004 Rolex 24 but drove only on a limited basis in 2005. Will drive in the three long-distance Rolex Series races in 2006 in Doran Racing's DORAN JE4 Ford with co-drivers Terry Borcheller and Harrison Brix. Will also compete in Grand-Am Cup series with Borcheller as his co-driver. Former world-class off-shore powerboat racer. Won five national and world championships in that sport from 1997 through 1999.

Career Highlights:
Winning car owner and co-driver at 2004 Rolex 24 at Daytona. Co-drivers were Terry Borcheller, Christian Fittipaldi and Andy Pilgrim.
Contributed to team Daytona Prototype championship and Borcheller's DP drivers' championship in 2003, when Bell Motorsports/Feeds the Need Racing won half of the 12 races on the schedule with its DORAN JE4 Chevy. Barber had five victories with Borcheller that year in DP. Barber missed one race that year due to a family emergency and he later sat out a second one but he still finished seventh in the overall point standings for the year. The six drivers who placed ahead of him competed in all 12 events. Barber and Borcheller tied for second place in 2003 Grand-Am cup drivers' championship.

Personal:
Has three daughters (Christine, Alexandra and Mary). Very devoted single parent. Enjoys shooting, fitness, reading and travel. His motorsport activities fall under the work of his company, Feeds the Need Racing, Inc. Former world-class powerboat racer, earning many national and world championships. Started racing career in cross country, enduro and motocross motorcycle events.
2006 Rolex Series results:
1. Rolex 24: Finished seventh overall and in DP with co-drivers Harrison Brix, Michael Jourdain Jr. and Terry Borcheller, who qualified 18th. Note: Running a limited schedule of Rolex 24, Watkins Glen Six Hour and Salt Lake City.